JAC Chandigarh
April 19th, 2021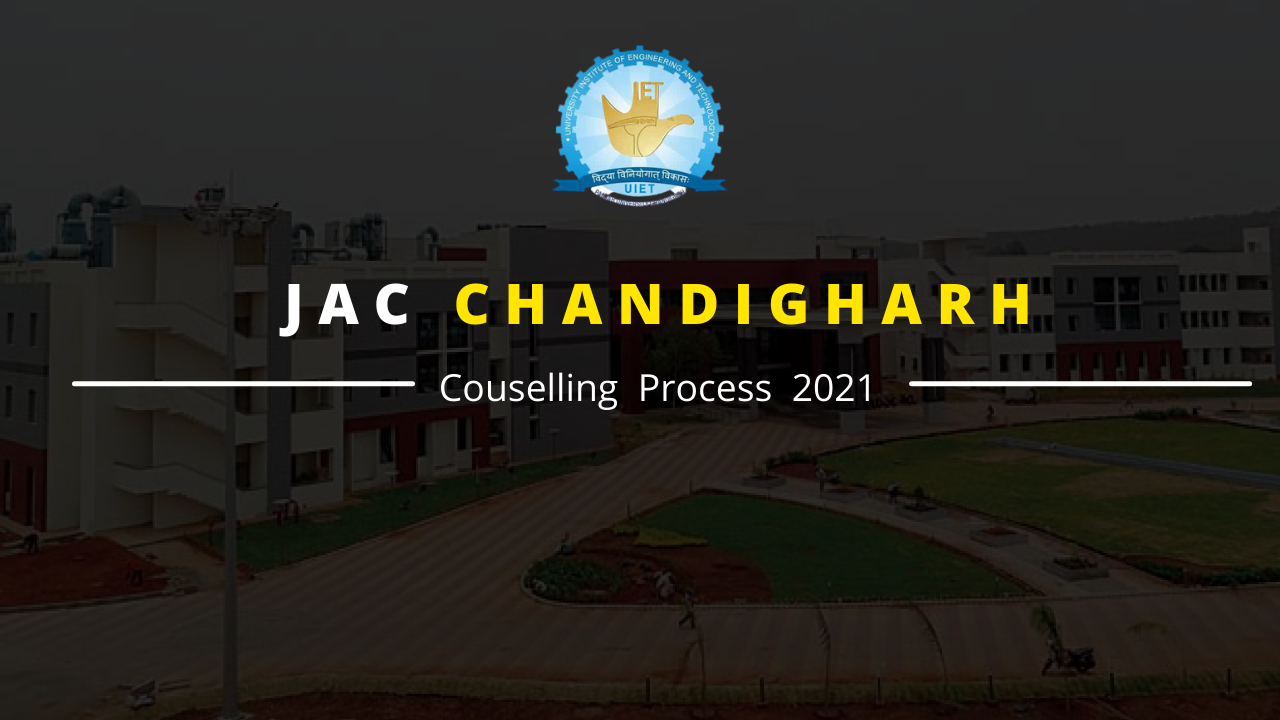 Joint Admission Committee conducts admission to various courses in colleges of Chandigarh based on JEE (Main) All India Rank (AIR). The colleges and courses are given below.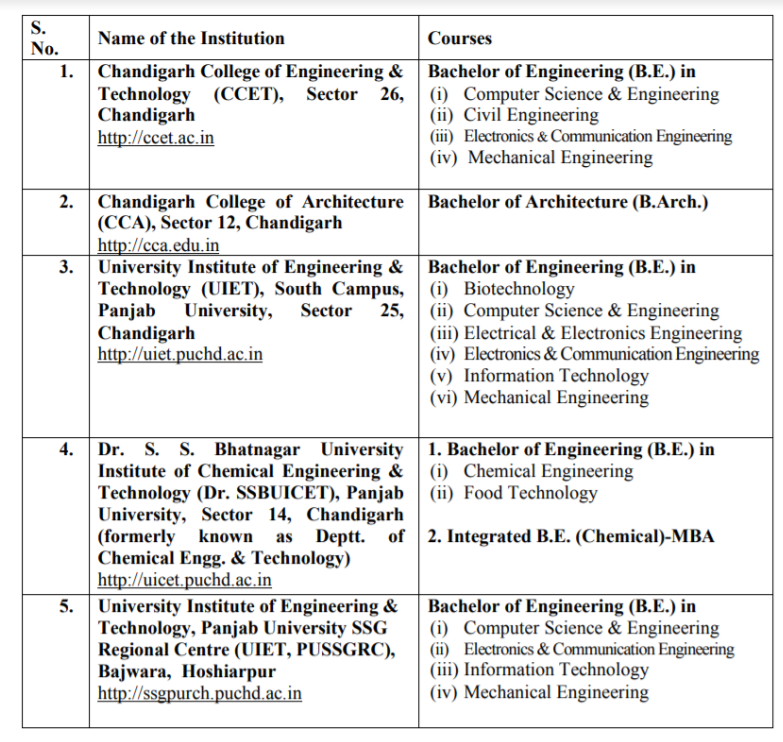 Eligibility criteria
A) Academic qualification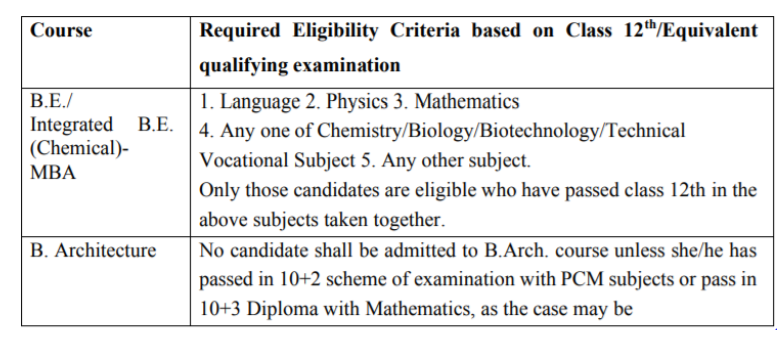 B) Basis of admission
1. All India Rank prepared by the National Testing Agency (NTA) based on the score in JEE (Main) - Paper 1 shall be used for admission to B.E./Integrated B.E.(Chemical)-MBA.
2. For admission to B.Arch., All India Rank prepared by the NTA based on the score in JEE (Main) - Paper 2 shall be used.
C) Health
1) The candidate should be free from any physical defect likely to interfere with the effective performance of duties of his/her profession.
2) With or without glasses, the vision should be:
| typeOfEye | distantVision | nearVision |
| --- | --- | --- |
| Better Eye | 6/6 or 6/9 | 0/6 |
| Worse Eye | 6/9 or 6/12 | 0/8 |
Online Registration & Fee Payment
1. Create a password
Eligible candidates will authenticate themselves by providing the following five parameters
a. JEE (Main 2020) Application No.
b. Candidate's Name
c. Mother's Name
d. Date of Birth
After successful authentication, candidate will create his/ her login credentials [JEE Main Application No. shall be the login id, and the candidate should create a password] and provide contact information (i.e., Email id and Mobile number).
2. Fill the registration form
After successful login, the candidates are required to fill the Online Registration Form. During Form filling, candidates are required to furnish the following information and upload the relevant documents:
i. Category (General, General-EWS, BC, SC, ST).
ii. Sub-category(ies) as appearing on registration form.
iii. Total marks obtained in various subjects of the qualifying examination (i.e. 10+2 examination)
iv. Place of the school from where the candidate has appeared for the qualifying examination (Chandigarh/ Outside Chandigarh).
3. Fee Payment
After successful submission of registration form, the candidates are required to pay one-time Registration Fee (Non-Refundable) through Debit Card/ Credit Card/Internet banking/e-Challan
Registration fee
General Category: ₹ 2500/-
SC/ST/PwD Category: ₹ 1250/-
4. Take a printout
Take a printout of the submitted application form for future reference.
Online Choice Filling
1 All registered candidates are required to submit their choices of Institute and Branch in order of their preference.
2 Candidates are required to submit single set of combined choices for Engineering & Architecture streams, if they are eligible for both the streams.
3 Choice filling is OPTIONAL for those candidates who are eligible only for Architecture. Only one choice of Architecture in CCA will be considered automatically after successful registration.
4 Candidates can fill in as many number of choices in the order of preference as they wish to, from the list of available choices.
5 Candidates are permitted, if they so desire, to change or re-order their choices, delete earlier choices and add new choices any number of times until they lock their final set of choices.
MOCK Counselling
1 Based on the number of registered candidates who have submitted their choices at any given time, the system will be able to provide an idea of the seat that may be allotted. This indicative seat availability ('Mock Counselling') is to help the candidates to finalize the most appropriate choice of seats.
2 The final allotment of seat, in the allotment rounds, may be different from the indicative seat availability.
Choice Locking & Printing of Locked Choices
1 Candidates MUST lock their choices only after they have finalized them, but in any case, before the last date & time. The locking of choices involves a few steps after the LOCK button is clicked. This includes re-entering the password and confirming the locking. Candidate should follow all the steps carefully to complete the locking procedure.
2 After the choices are locked, candidates will not be able to change/alter their choices. A printable version of the choices along with the terms and conditions agreed by the candidate at the time of registration is displayed only if the choices are locked.
3 If a candidate fails to explicitly lock the choices by the last date & time, the last saved choices will be automatically locked after the deadline. Candidates are therefore strongly advised to lock their choices themselves and secure a printout of these locked choices.
4 Registered candidates who do not exercise any choices in any of the rounds will not be considered for seat allotment. However, they will be eligible for SPOT round of Counselling after depositing a SPOT round participation fee of ₹40,000/-.
5 The candidate can log in again to view the locked choices. However, the locked choices cannot be modified or altered.
Seat allotment
The choices submitted by the candidates will be processed centrally and seats will be allotted. The allotment result will be published on the website and also communicated through SMS to successful candidates. Candidates will have to pay the admission fee of Rs. 40,000 to accept the seat. The same can be paid through Debit Card/Credit Card/Internet banking/e-Challan.
List of required documents
For admission, on the day of Physical Reporting, the candidates are required to bring their original documents, along with a set of photocopies. The documents required are:
a) JEE (Main)-2020 Result Card
b) Detailed Marks Sheet of class 12th
c) Class X Certificate for Date of birth
d) Character Certificate from the last attended institute
e) Migration/Transfer Certificate
f) Respective category certificates for reserved category students