Indian Institute of Engineering Science and Technology, Shibpur
April 17th, 2021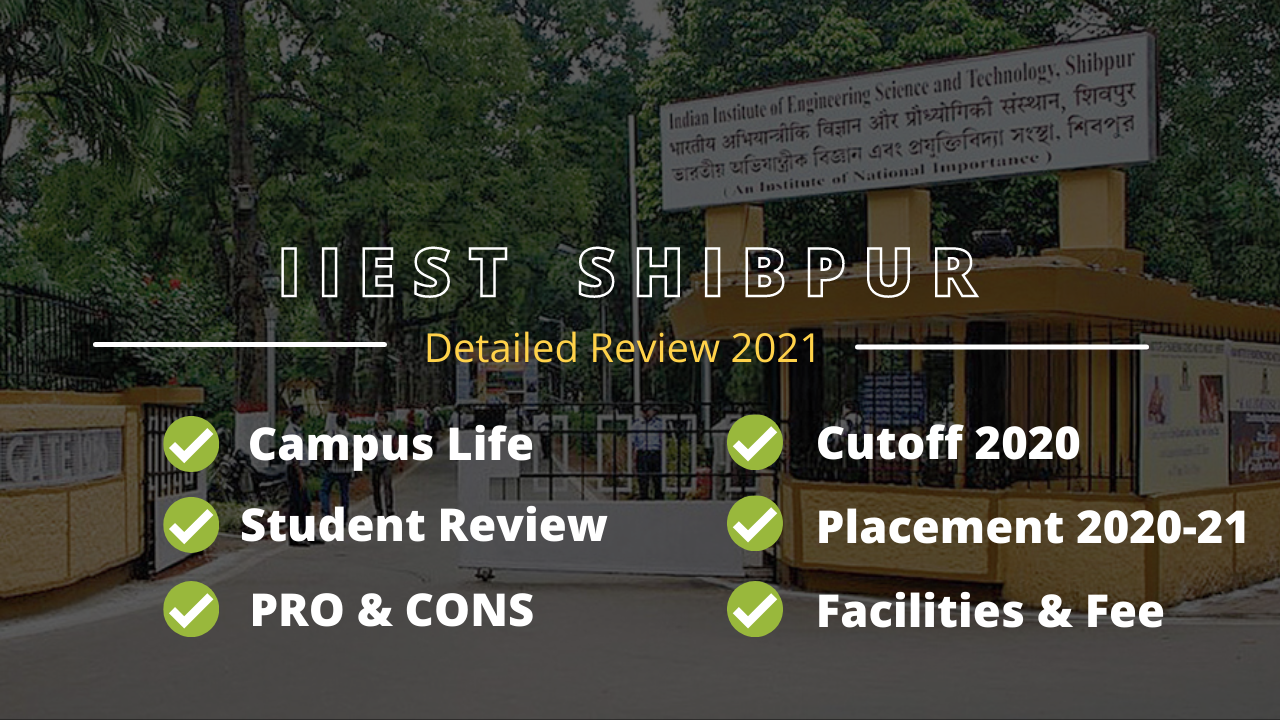 Connectivity
• Nearest Airport: Netaji Subhas Chandra Bose International Airport, Kolkata (28.5 km).
• Nearest Railway Station: Howrah Junction Railway Station (6 km).
Fees
a) Institute Fee
1st Semester :Rs. 71,000
Total Fee :Rs. 5,47,000
b) Hostel Fee
1st Semester :Rs. 29,500
Total Fee :Rs. 2,17,000
Fee Waivers
• 100% Tuition Fee waiver for SC/ST/PH students.
• Full remission of the Tuition Fee for General and OBC students whose family income is less than Rs.1 lakh per annum.
• Remission of 2/3rd of the Tuition Fee for General and OBC students whose family income is between Rs.1 lakh to Rs.5 lakh
Mode of Admission
JEE (Main) examination & JoSaa+CSAB Counselling
B.Tech. courses and seat distribution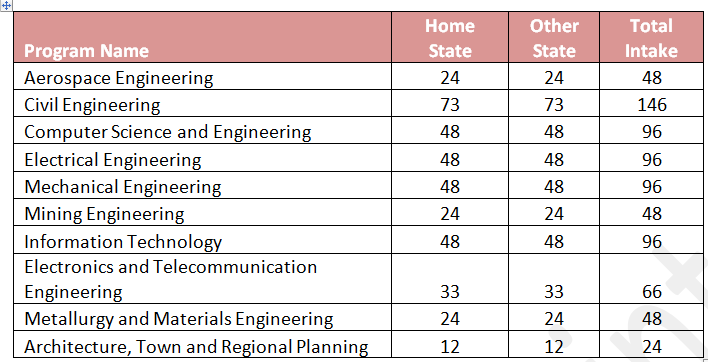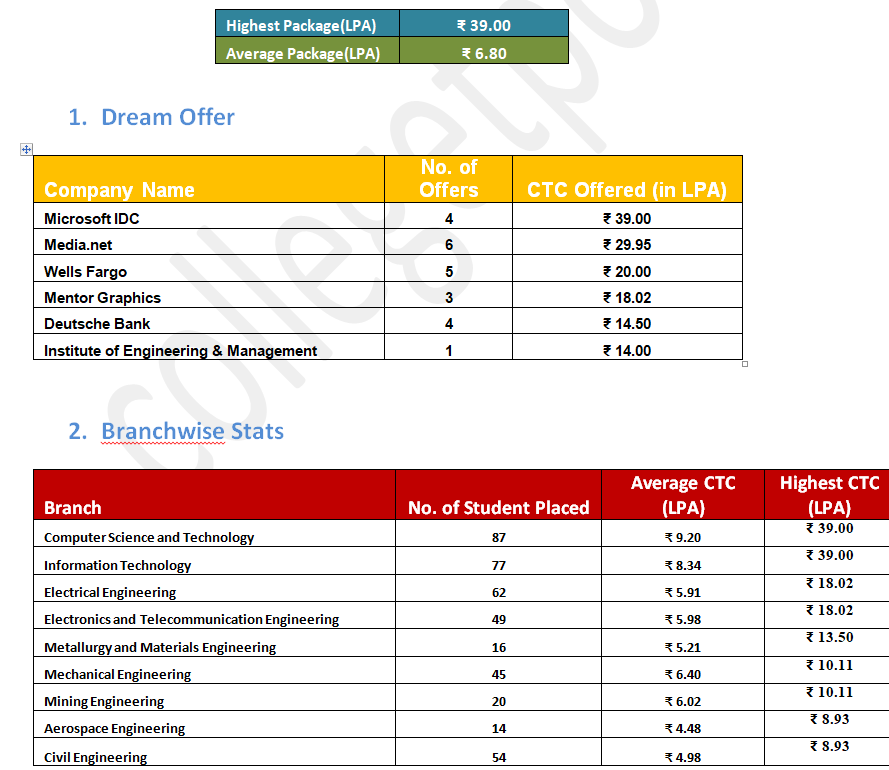 Facilities
1. Hostel :
• The Institute, with a student population of more than 3200, has 17 hostels including two girls' hostels for UG students and one girls' hostel for PG and Research Scholars.
• There are 9 multi-seated hostels for boys: A. C. Roy Hall (Hostel 7), D. Banerjee Hall (Hostel 8), A. K. Seal Hall (Hostel 9), Hostel 10, Hostel 11, Hostel 13 (exclusively for PG and Research Scholars), Hostel 14, Hostel 15, Hostel 16.
• There are 5 single-seated halls for boys: Richardson Hall, Macdonald Hall, Sen Hall, Sengupta Hall, Wolfenden Hall.
2. Canteen & Food Court :
The Institute has ladies canteen, nest-in-Cafeteria, Faculty Canteen, Student Canteen, Guest House Canteen, Metro Dairy, Nescafe and Café coffee day.
3. Sports:
Lord's Ground
Cricket
Football
Night Short Cricket
Sports
Different Tournaments
Kids also play here
Used to other programs as well like Rebecca
The Institute has Oval Ground,BasketballCourt,Swimming Pool, Table Tennis etc.
4. Gymnasium
The institute has a Gynmasium for the students. Good modern instruments are there and time to time renovated as per requirement of the candidates. Gynmasium is quiet popular in the institute and students comes here in the evening after their classes and in the morning before the classes. Body Building Championship is also held in the college.
5. Tournaments
• Football and Football Tournaments
• Cricket and Cricket Tournaments
• Body Building Championship
• Chess Tournaments
6. Medical Facilities :
The Institute has a hospital provides 24 hours ambulance service. OPD Hours: Morning: 7:30 AM – 10 AM & Afternoon: 4:30 PM – 6:30 PM
Saturday Afternoon and Sunday OPD closed.
7. Technology Incubation
Tagore Centre for Green Technology Business Incubation (TCGTBI), a society registered under the Societies Registration Act, 1860 is set up to promote innovation and entrepreneurship by converting and translating technology ideas and innovation in various disciplines of science and engineering into products, processes, and services for commercial exploitation and the benefit of society.
8. Research Facilities - Central Research facility with the latest pieces of equipment.
Fests
1. REunion and Bengal Engineering College Annuals(REBECA) - REBECA is the cultural fest of IIEST, Shibpur.It is the oldest Cultural Fest in the whole of India. he event is divided into four days
a) Classical Night: A treat for classical music connesiurs .
b) BEings Night: The stage is set for BEings (current students) to rock the stage.
c) Kolkata Night: A night of Bengali music. Even if you don't know the language, you can still enjoy the night.
d) Mumbai Night: The best night of it all. If you are a final year student, it will the saddest one actually.
2. INSTRUO- Kolkata's Largest Techno Management Fest - The aim to bring a tech-culture among the students of the university and expose them to the latest technology. Since then Instruo has grown rapidly, created more innovative minds and inspired many.Various companies sponsor this tech fest. Every year around 400-500 participants come here from every corner of the country.
Closing Cutoff 2020 (as per JoSAA last round)
*Detailed roundwise cutoff of JoSAA and CSAB is available on the "CollegeTpoint" application. Download from google playstore.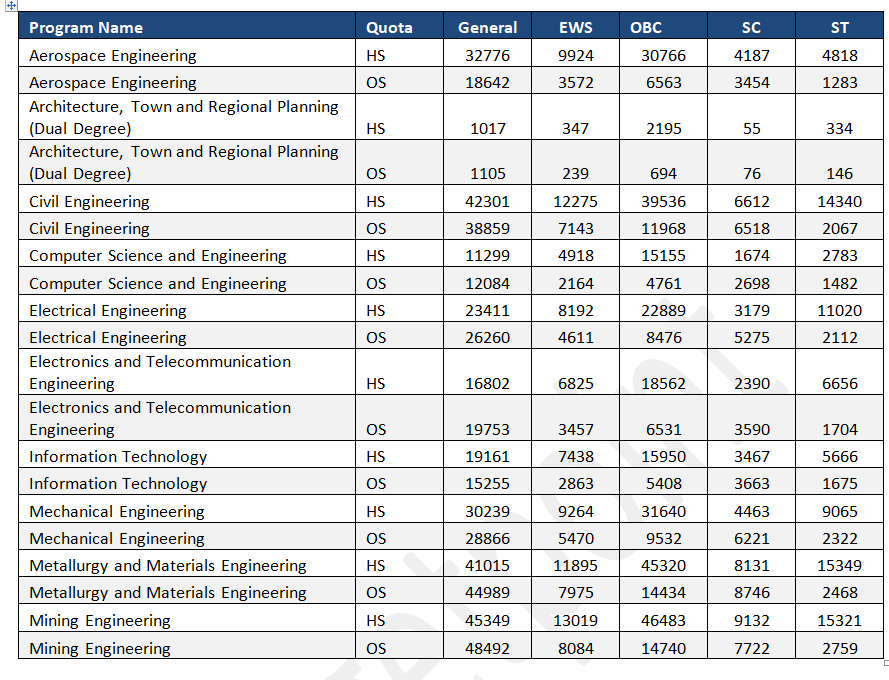 Alumni
• Soumitro Banerjee, electrical engineer, Shanti SwarupBhatnagar laureate.
• Amitabha Bhattacharyya, production engineer, Shanti SwarupBhatnagar laureate.
• GautamBiswas, director, IIT Guwahati.
• Promode R. Bandyopadhyay, American-Indian Inventor.
• Bimal Kumar Bose, scholar in Power Electronics, Chondra Chair of Excellence in Power Electronics, Professor Emeritus at University of Tennessee, member of National Academy of Engineering.
• SoumyenBandyopadhyay, Architect at Liverpool University holds Sir James Stirling chair in architecture.
• PradipChatterjee, flautist and singer, founding member of MohinerGhoraguli
• Arunendu Das, songwriter.
• ChaitanyamoyGanguly, nuclear scientist, Padma Shri recipient
• AmitabhaGhosh ex-director, IIT Kharagpur
• Buddhadev Das Gupta, classical sarod player, Padma Bhusan recipient
• FazlurRahman Khan, structural engineer and architect. Called the "Einstein of structural engineering".
• BinoyMajumdar, poet, SahityaAkademi Award winner.
• BirenMookerjee, industrialist, CMD Martin Burn &Co.Ltd. MD IISCO Ltd.
• RajenMookerjee, industrialist, co-founder of Martin Burn & Co. and founder of Indian Iron & Steel Co. Ltd.
• M. A. Rashid, first Vice-chancellor of Bangladesh University of Engineering and Technology.
• Tathagata Roy, Ex GM / Chief Engineer Metro Railway and politician, Governor of Tripura.
• Narayan Sanyal, novelist, writer of "Shatyakam".
• BadalSarkar, dramatist and theatre director, Padma Shri recipient.
• JatindranathSengupta, poet and writer.
Pros
1. Placements: The highest placements are of 40 lacs. and the lowest placements are of 3 lacs. In some departments like Information Technology and Electrical Science, the placements are good.
2. Infrastructure: The buildings are quite large and spacious.
3. Library: The library which is housed over three storeys is said to contain all the relevant books, new and old, which the students need.
4. Curriculum: The course structure is industry-based to some extent.
5. Faculty: Most of the faculty members hold degrees from prestigious institutions, both of India and abroad. They are also said to be pursuing research in their particular fields.
6. Sports: There are two stadiums on the campus and participation in sports is encouraged. Equipment, facilities and coaches are available for various sports.
7. Gym: Well-stocked gymnasium facilities are available on campus.
8. Food: Some messes serve great food and the non-vegetarians have a great choice of food.
9. Hostel: From third year onwards, the hostel facilities drastically improve when the students get single-seater rooms.
10. Medical Facilities: The institute provides free medical facilities to all the students.
11. Fests: REBECA is the cultural fest of IIEST Shibpur. Instruo is the technical fest of IIEST Shibpur. Both the fests are said to be quite good and draws a huge participation from the students.
12. Wi-Fi: The institute has good internet connectivity. The students enjoy good internet speed throughout the campus.
13. Connectivity: The institute is well-connected with roads on all sides. Also, it's close to the botanical garden, which is a great tourist spot to hang out at.
Cons
1. Placements: The lowest placements are of 3 lacs. In some departments like Mechanical Engineering, the placements are not so good.
2. Infrastructure: Some of the buildings are quite old and are in dire need of renovation.
3. Curriculum: There are portions of the syllabus which don't have any industry application. Also, the course curriculum doesn't encourage the students for competitive exams.
4. Faculty: According to some students, a little more alacrity on the part of the faculty is needed towards teaching.
5. Sports: Of the two stadiums, one is not open to all the students to play according to their wish.
6. Food: Some messes serve food which is not so great. Vegetarians don't have a great choice of food.
7. Hostel: In the first and second years, the hostel facilities are said to be not so good.