COMEDK UGET
April 13th, 2021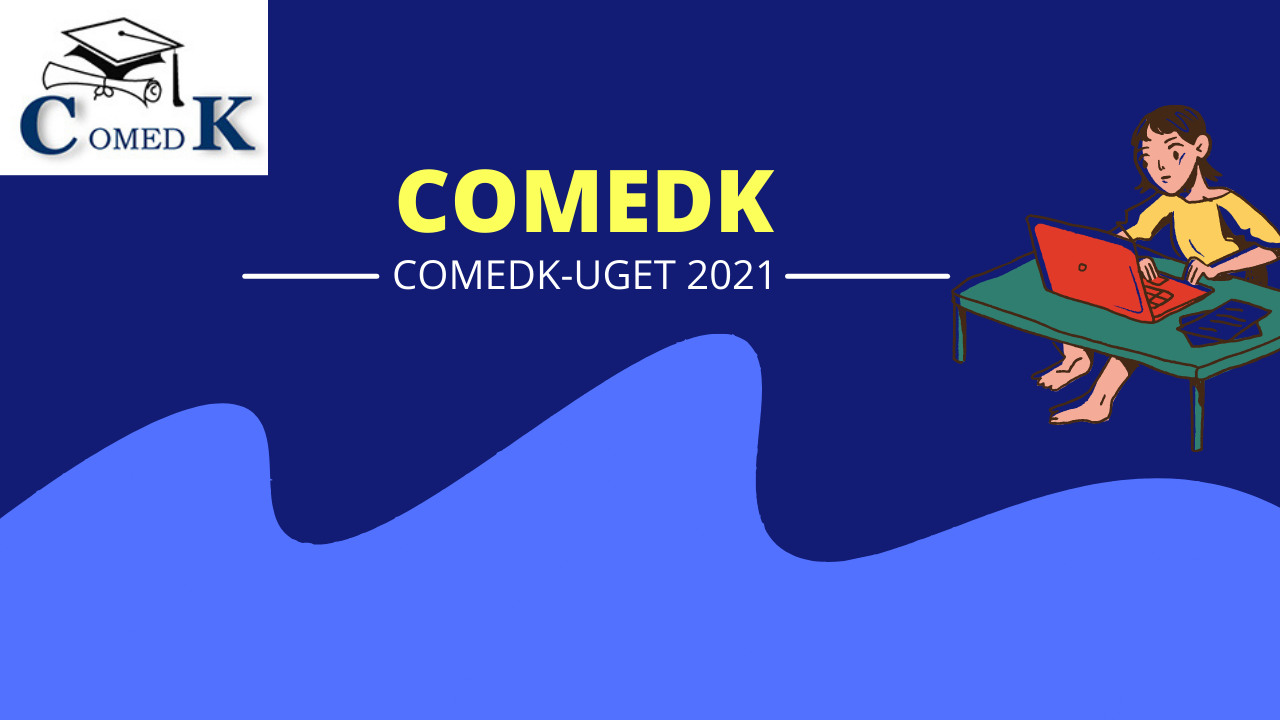 COMEDK is the Consortium of Medical, Engineering and Dental Colleges of Karnataka. It is an autonomous institution serving 16 Medical, 24 Dental and around 190 Engineering Colleges. COMEDK since its inception in 2004-05 has been conducting the annual entrance exam for Undergraduate and Postgraduate courses in the member institutions and has also been organizing single window centralized counselling process over the last 15 years.
Admission to unaided private engineering colleges in Karnataka has two components:
1. COMEDK UGET
2. COMEDK counselling
In this article, we are going to talk about COMEDK UGET.
Eligibility Criteria
Candidates from all over the country can appear for the UGET 2020 entrance examination. The eligibility criterion for various programs is as under:-
For UG Engineering Courses
 The qualifying examinations prescribed for admission for B.E. is second PUC or 10+2 Higher Secondary or equivalent examination recognized by State / Central Government; the last two years of study shall comprise of Physics, Chemistry and Mathematics with English as a compulsory subject.
 The General Merit candidates should have passed with a minimum aggregate of 45% marks (40% in respect of SC, ST and OBC candidates of Karnataka State) in Physics, Chemistry and Mathematics and should have passed these subjects individually. Physics and Mathematics are compulsory subjects along with Chemistry or Bio Technology or Biology or Computer Science or Electronics as one of the optional subjects.
 An attempt in the COMEDK Entrance Test seeking admission to Engineering courses is considered adequate for figuring in the rank list.
 Diploma candidates are not eligible to take the Entrance Test as there are no lateral entry admissions.
For UG Architecture Courses
 The prescribed qualifying examination for admission to B. Arch course is second PUC or 10+2.
 The candidates should have passed an examination at the end of the 10+2 scheme of examination with at least 50% aggregate marks in Physics, Chemistry & Mathematics (45% for SC, ST and OBC candidates of Karnataka) and also at least 50% marks in aggregate of the 10+2 level examination (45% for SC, ST and OBC candidates of Karnataka) or passed 10+3 Diploma examination with Mathematics as compulsory subject with at least 50% marks in aggregate (45% for SC, ST and OBC candidates of Karnataka) and should have passed these subjects individually.
 All the candidates (including SC, ST and OBC candidates of Karnataka) seeking admission to B.Arch shall pass the NATA (National Aptitude Test in Architecture) conducted by the Council of Architecture or JEE Paper – 2. Qualification in NATA is subject to the candidate getting at least cut-off marks in two individual components and also getting at least the qualifying marks in aggregate.
 The candidates should have qualified a recognized aptitude test in Architecture (NATA or equivalent) in 2020.
 There shall be no Entrance Test for candidates seeking admission to B. Arch Course.
 Candidates seeking admission to B. Arch course shall submit separate application form for counselling. Candidates interested only in Architecture course need not fill the online application form for engineering entrance exam.
| subjects | questions |
| --- | --- |
| Physics | 60 MCQ |
| Chemistry | 60 MCQ |
| Maths | 60 MCQ |
| Total | 180 Questions |
 Medium of Examination will be ENGLISH Only
 Each correct answer will be awarded 1 mark
 There will be no negative marking for wrong answers
 However, in the event of a tie in the test score the principle of least negative responses (Number of wrong answers) will be adopted. In addition, if required, other methods may be adopted to break ties.
 Total Marks would be 180
Test Syllabus
The entrance test is based on the existing syllabus of 10 + 2 / 11 & 12th STD / 1st and 2nd PUC.
Registration for COMEDK UGET
The flow chart for filling the application form is given below.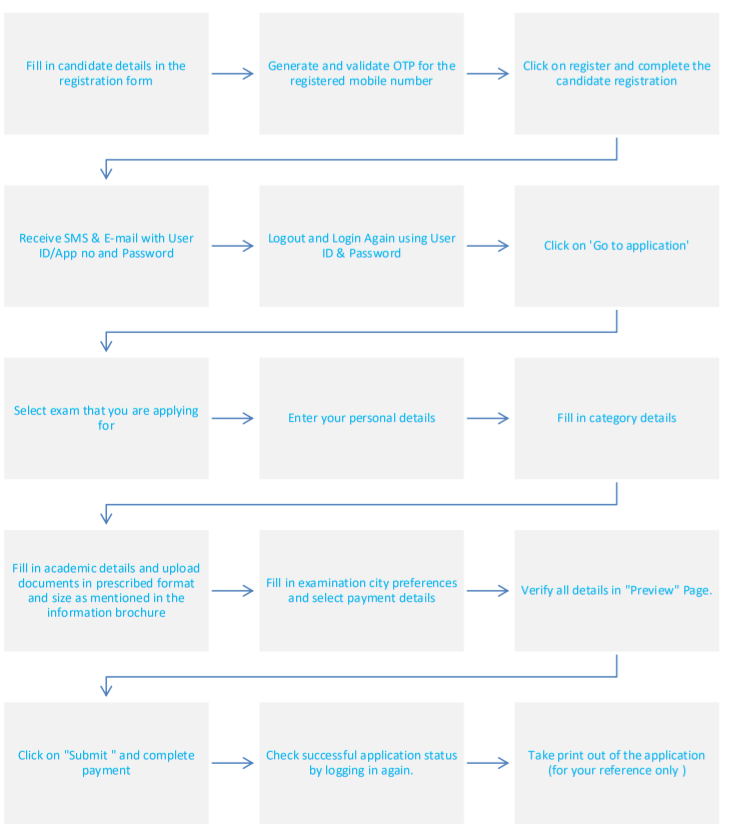 The following fields have to be filled for registration.
a) Name of the Applicant: Enter your full Name (as it appears in your SSLC/10th Std Marks Card Only), In the case of a candidate who has changed his/ her name for any reason, the original proof of the same has to be produced at the time of admission.
b) Date of Birth: DOB to be entered as per 10th /SSLC Marks card only.
c) Email-ID: Enter your valid Email ID for all correspondence. d) Mobile No: Enter your Mobile number. Enter OTP received so as to verify the mobile number entered.
e) Applicants Unique ID Proof: Select the ID proof that the candidate will bring in original at the time of exam and admission process from the list provided. APPROVED LIST OF ID PROOF FOR CANDIDATES:
(i)Voter ID
(ii) Passport
(iii) Driving License
(iv) Aadhar Card /E-Aadhar
(v) PAN card
The scan copy of the same has to be uploaded in the application form. The candidate has to use the same ID proof that is mentioned in the application form till the entire admission process is complete.
CAUTION: ANY ID PROOF OTHER THAN WHAT HAS BEEN DECLARED WILL NOT BE ACCEPTABLE FOR THE TEST / ADMISSION AT COLLEGE LEVEL
f) Applicant's Unique ID Proof Number: Enter the Unique ID proof number as mentioned in the ID proof selected, if applicable. For instance, if you have declared ID proof as driving license and your ID proof number is 'KA01 20110001212', enter the ID number as 'KA0120110001212'.
Filling up the application form
Once you have registered, you have to log in and fill the application form. This entails filling up your personal, category, and academic details. The documents given below have to be uploaded.
City preference
Select the 3 test cities from the available list in order of preference. The test cities are allotted to candidates on first come first serve basis. However, COMEDK reserves the right to allot any test city other than the city chosen by the candidate.
Fee payment
Registration fee is Rs. 1600. The same has to be paid online (credit card/debit card/net banking/UPI).
Admission ticket
Candidates can download COMEDK admit card from the official website. The admit card will have details like candidate's name, address, contact details, test timings, test centre details, etc.
Note: The candidates must not mutilate or laminate the Test Admission Ticket or change any entry made therein after it has been authenticated & received by them.
COMDEK Test Scheme
The Entrance Test COMEDK UGET will be conducted only in Computer Based Test (CBT) mode and is mandatory for all candidates seeking admissions to B.E courses in Member Institutions of COMEDK . The COMDEK UGET test duration will be of 3 hours. A merit / rank is generated based on the candidate's scores in entrance test only.
Things to be carried to the examination hall
1. Online Test Admission Ticket
2. 2 Recent passport size photograph
3. Unique original photo ID as mentioned in Application Form /TAT
COMDEK Result
Provisional Answer Keys, Final Answer Keys (post challenge verification) and Test Scores of the candidates will be made available under the applicant login on www.comedk.org as per the calendar of events. Clarifications, if any, should be sought within the dates stipulated. Subsequently, the final result would be made available which will be binding on all candidates and no further claim would be entertained thereafter.
COMEDK Assistance
In order to provide timely information to the candidates about their applications, or the entrance test, or the results thereof, COMEDK has made the following arrangements: