COMEDK Counselling
April 13th, 2021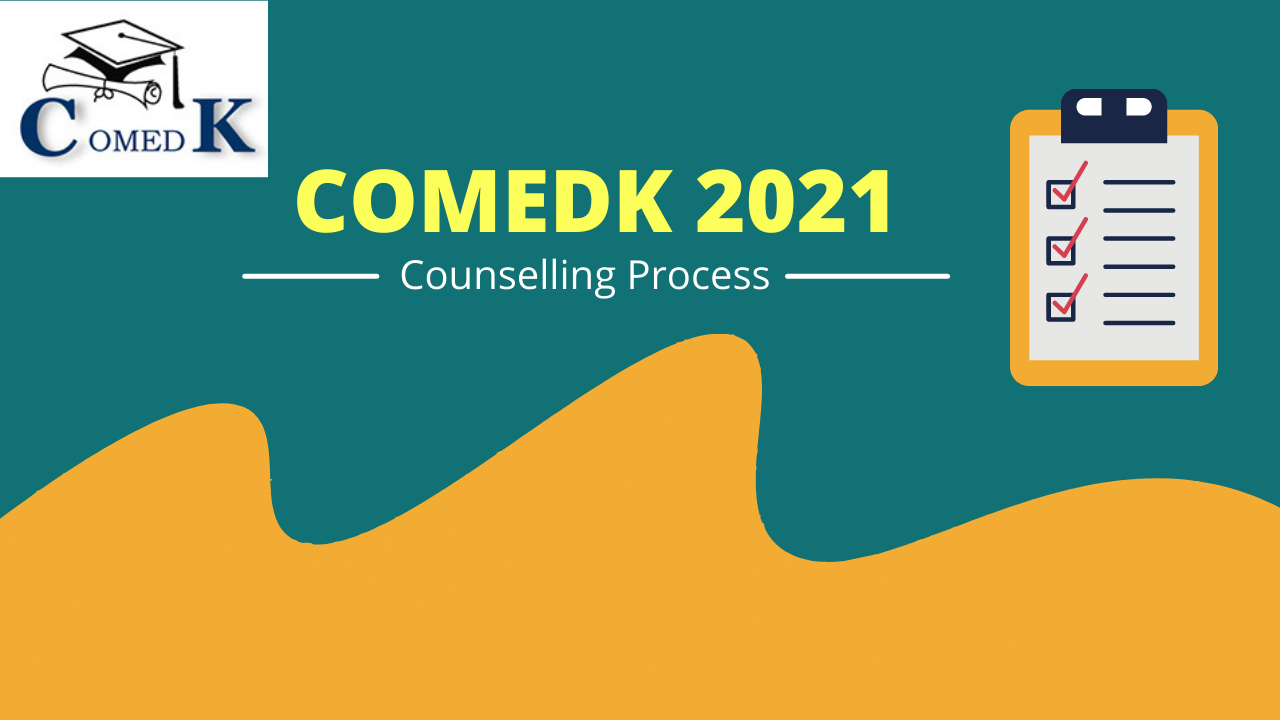 COMEDK is the Consortium of Medical, Engineering and Dental Colleges of Karnataka. It is an autonomous institution serving 16 Medical, 24 Dental and around 190 Engineering Colleges. COMEDK since its inception in 2004-05 has been conducting the annual entrance exam for Undergraduate and Postgraduate courses in the member institutions and has also been organizing single window centralized counselling process over the last 15 years.
Admission to unaided private engineering colleges in Karnataka has two components:
1. COMEDK UGET
2. COMEDK counselling
In this article, we are going to talk about COMEDK counselling.
Eligibility Criteria
• Candidates with COMEDK Engineering Entrance Exam Rank Card and NATA exam qualifiers (architecture).
• Have passed 12th/equivalent with 45% marks in aggregate in Physics and Mathematics along with Chemistry/Biotechnology/Biology/Electronics/Computer(40% for SC, ST and OBCs of Karnataka State only).
• Candidates who are willing to pay Rs. 5,000/- as part of the tuition fee.
Flow chart for the counselling process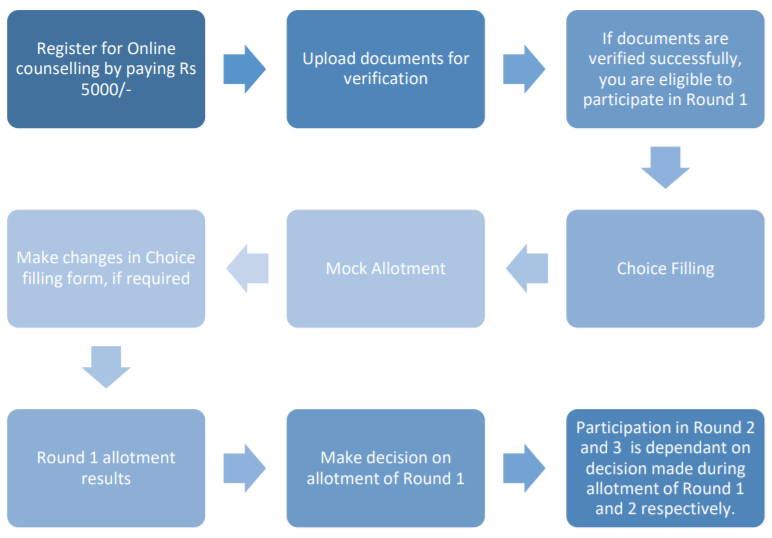 Steps to register for COMEDK Counselling
• Log in to COMEDK Application Form on www.comedk.org
• Click on "Counselling Registration" Tab
• Make Payment of Rs 5000/- as part of tuition fee using credit card/debit card/net banking
• Click on "Document Upload" tab
• Upload all mandatory documents for verification. (Ensure uploading legible scanned copies of documents. Do not take photo of the documents in mobile for uploading) Only candidates whose document verification is completed will be eligible for further process.
Document Verification for COMEDK counselling
• The document verification status will be updated in your application form latest by 30th Sept.
• You are requested to login to your application frequently to check for document verification status.
• In case incorrect/illegible documents are uploaded, your counselling registration and verification status may show as 'Rejected'.
• Candidates whose document verification status is incomplete/rejected will not be able to participate in further process.
• In case of incorrect declaration in application form or documents, your candidature may be rejected at any stage of counselling/admission process.
Documents required to be uploaded for online verification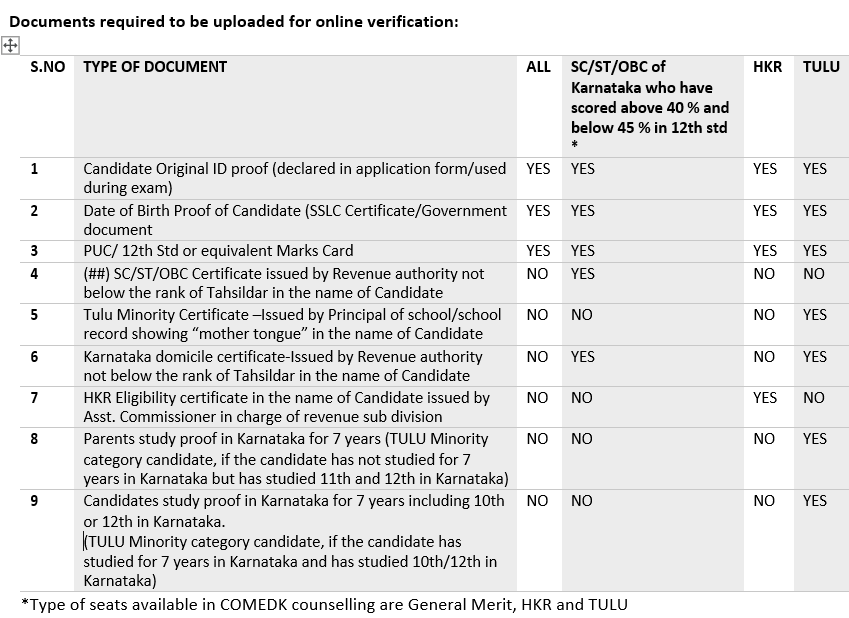 COMEDK Counselling - No. of rounds
• There will be 3 Rounds of Counselling
• Candidates who register for counselling and complete document verification will only be eligible to participate in counselling.
• Eligibility to participate in Round 2 and 3 will depend on choice exercised or decision made on allotment during Round 1 and 2 respectively.
• There will be an exclusive round of counselling for candidates passed out in supplementary exam conducted by PU Board / 10+2 for the leftover seats after all the rounds of regular counselling are completed.
Counselling rounds and the action needed to be taken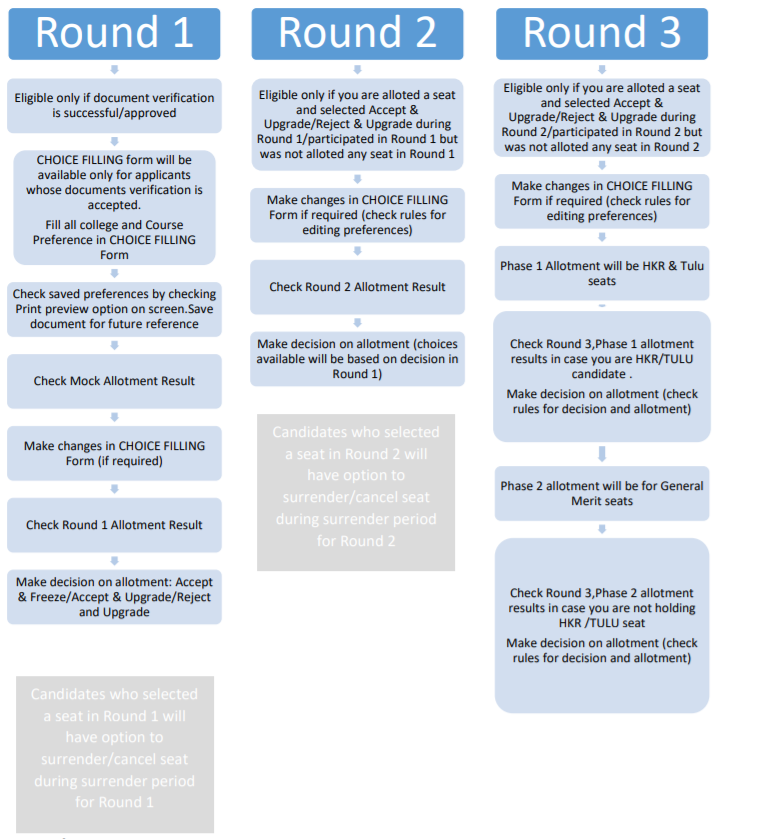 Options/Decisions that are available after seat is allotted in Round 1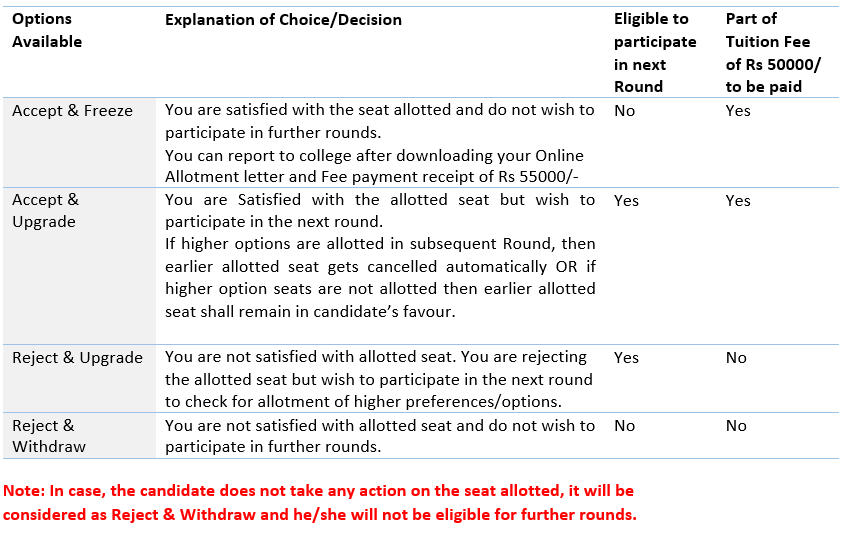 Options/Decisions available in Round 2 & 3
Surrender/Cancellation Process & Refund
RULES OF REPORTING TO COLLEGE
i. All candidates who choose "Accept and Freeze" option and complete payment of part tuition fee of Rs 50,000/- will be required to report to college as per date mentioned in online allotment letter and fee payment receipt.
ii. If it is found that the allotment letter issued to the candidate is tampered, the COMEDK reserves the right to cancel such allotment and the candidate will forfeit the entire fee paid.
Annual Tuition Fee Payment
The upper limit of annual tuition fee as agreed between the State Government and the Association of Colleges is Rs.2,01,960/- or Rs.1,43,748/- whichever is opted by the respective institutions.
Please note that: This fee amount may change subject to any revision in tuition fee by statutory authorities and is only indicative.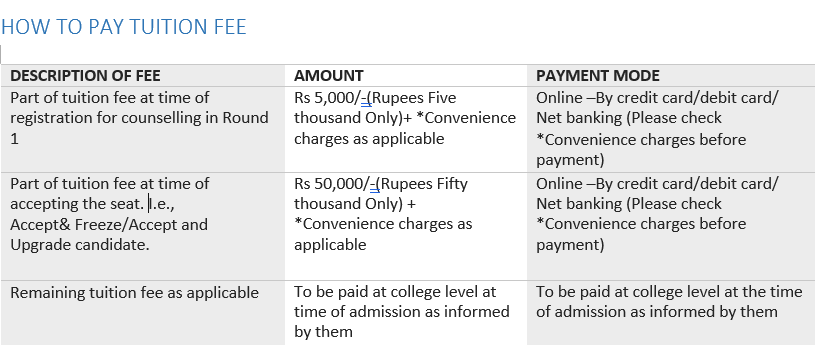 Surrender Policy/seat cancellation
Any candidate, who has accepted a seat during Round 1 or 2, can surrender their seat within the time period mentioned in Counselling SCHEDULE for Seat Surrender.
There is no facility to surrender the seat after the Round 3 and fees paid will be sent to the respective college that was accepted by the candidate. Please check fee refund policy in the fee refund section of this document.
WHEN CAN CANDIDATE SURRENDER SEAT

Process of refund after surrender online
• Refund will be done only to the same account/card that was used at the time of making the ONLINE fee payment initially. Refund cannot be initiated to any other account.
• Refund for Surrender cases will be processed only after completion of all Rounds of COMEDK counselling.
Certificates that may be asked for at the college at the time of admission
i. ALLOTMENT LETTER issued ONLINE by COMEDK
ii. ALL ORIGINAL DOCUMENTS uploaded by candidates and verified before the counselling
iii. TRANSFER CERTIFICATE issued by the Institution last studied
iv. MIGRATION CERTIFICATE (As applicable)
| contactDetail | particulars |
| --- | --- |
| Call: 080-46671060 | Monday to Friday – 11:00 AM to3:00 PM Not operational on Saturdays, Sundays and Public Holidays Due to COVID -19 related restrictions, call center operations will be limited. Candidates are requested to use email for queries. |
| Email:studenthelpdesk@comedk.org | Mails will be answered within 3 working days. |
| Website: | www.comedk.org |
COMEDK Assistance to candidates