Birla Institute of Technology and Science Aptitude Test (BITSAT) is a national level test conducted for admission to various engineering programmes in its four campuses viz. Pilani, Goa, Hyderabad, and Dubai.

BITSAT Eligibility criteria
Qualifying exam:
1. For admission to all the above programmes, Candidates should have passed the 12th examination of 10+2 system from a recognized Central or State board or its equivalent with Physics, Chemistry, and Mathematics and adequate proficiency in English.
2. The candidate should have obtained a minimum of aggregate 75% marks in Physics, Chemistry and Mathematics subjects in 12th examination, with at least 60% marks in each of the Physics, Chemistry, and Mathematics/ Biology subjects.
3. Only Students who are appearing for 12th examination in this or who have passed 12th Examination in previous year are eligible to appear in the BITSAT test this year.
Direct Admission to Board Toppers:
First rank students of all the central and state boards in India for the year will be given direct admission to the program of their choice, irrespective of their BITSAT score.


• The questions will be selected at random from a large question bank. Different candidates will get different question sets. An expert committee will ensure that the question sets are of comparable difficulty level, content, question type etc.
• If a candidate answers all the 150 questions (without skipping any question), the candidate will have an option of attempting 12 extra questions, if there is still time left. These extra questions will be from Physics, Chemistry, and Mathematics only; four questions from each part.
• Candidates should bring a pen for the purpose of rough work, signing, etc. Blank sheets for rough work will be provided, if required.
BITSAT syllabus:
The BITSAT-2020 test will be conducted on the basis of NCERT syllabus for 11th and 12th class. Candidates may refer to the NCERT textbooks for the contents. A sample test demonstrating the features of BITSAT-2020 will be made available to the registered candidates at the BITS admission website on which he/she can practice as many times as desired.
Part I Physics:
1. Units & Measurement 2. Kinematics 3. Newton's Laws of Motion 4. Impulse and Momentum 5. Work and Energy 6. Rotational Motion 7. Gravitation 8. Mechanics of Solids and Fluids 9. Oscillations 10. Waves 11. Heat and Thermodynamics 12. Electrostatics 13. Current Electricity 14. Magnetic Effect of Current 15. Electromagnetic Induction 16. Optics 17. Modern Physics 18. Electronic Devices
Part II Chemistry:
1. States of Matter 2. Atomic Structure 3. Periodicity 4. Thermodynamics 5. Physical and Chemical Equilibria 6. Electrochemistry 7. Chemical Kinetics 8. Hydrogen and s-block elements 9. p- d- and f-block elements 10. Principles of Organic Chemistry and Hydrocarbons 11. Stereochemistry 12. Organic Compounds with Functional Groups Containing Oxygen and Nitrogen 13. Biological , Industrial and Environmental chemistry 14. Theoretical Principles of Experimental Chemistry
Part III: (a) English Proficiency and (b) Logical Reasoning
(a) English Proficiency:
1. Grammar 2. Vocabulary 3. Reading Comprehension 4. Composition
(b) Logical Reasoning:
1. Verbal Reasoning 2. Nonverbal Reasoning
Part IV: Mathematics:
1. Algebra 2. Trigonometry 3. Two-dimensional Coordinate Geometry 4. Three dimensional Coordinate Geometry 5. Differential calculus 6. Integral calculus 7. Ordinary Differential Equations 8. Probability 9. Vectors 10. Statistics 11. Linear Programming 12. Mathematical modelling
BITSAT Registration:
The following items have to be entered for registration.
• Personal details (Name, Father's Name, Mother's Name, DOB)
• Valid and Active Email ID
• Valid and Active Mobile number for receiving SMS (Foreign candidates, please prefix your ISD code with your phone number)
User ID and Password will be created and sent on your registered mobile and email. You have to enter the following after logging in.
• address for correspondence
Thereafter, the candidates have to upload photograph and signature in .jpg format.
• The size should be 50 to 80 kb.
• The photograph should be passport sized and coloured with white background.
• The candidate should select a payment gateway and complete payment.

BITSAT score report:
At the completion of the test, the computer will announce the result to the candidate in terms of number of total correct answers and wrong answers, with the score. The candidate can also check his or her score report at the BITS admission website on the next day of his or her test date. The candidate can also take a printout of his or her score report for any further usage.
BITSAT merit list for admission:
• All candidates who appear in BITSAT and are interested in admission will be required to submit Admission application form with 12th marks and preferences to different degree programmes offered.
• The merit position of such eligible candidates will be prepared on the basis of their scores in BITSAT.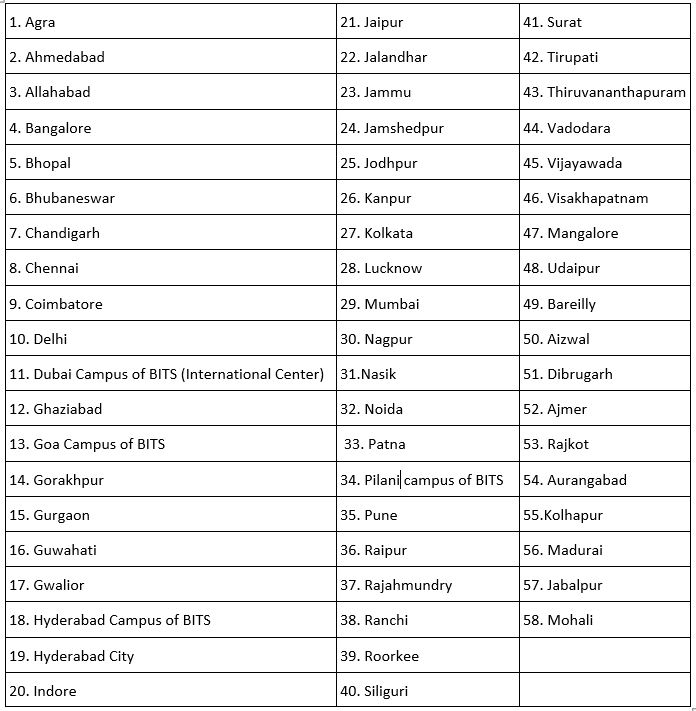 • For centers within India, the candidate will be asked to give three preferences and will be allotted one out of these three.
• If a candidate chooses Dubai as a centre, he/she will not be asked for any other centre preference and will be allotted Dubai centre only.